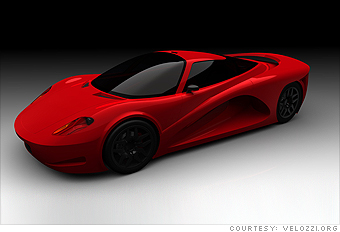 The Velozzi is expected to cost at least $700,000.
You could say Roberto Velozzi has automotive blood.
Growing up in El Salvador, he was forever doodling futuristic cars in his notebooks; his father even owned a Mercedes-Benz dealership. But rather than enter the family business, Velozzi, earned a material science degree at UCLA. After graduation, he landed a job at the Jet Propulsion Lab in Pasadena, where he worked on direct-methanol fuel-cell technology and continued to dream up concepts for alternative vehicles in his spare time.
By 2007, he was ready to go public with his ideas, most notably a plug-in hybrid featuring a turbine engine that burns just about anything: gasoline, diesel, biodiesel, methanol, ethanol and, with some modification, natural gas. After giving a radio interview about his work, Velozzi was contacted by Germany-based Bayer AG. The pharmaceutical company has an automotive division in Auburn Hills, Mich., that supplies plastics for most GM and Ford vehicles.
In Velozzi, Bayer found a potential partner who could help them promote their latest advances in lightweight, state-of-the-art automotive plastics. In return, the Bayer partnership gave Velozzi leverage to forge similar relationships with other automotive suppliers, including Ashland and Montreal-based Nanoledge.
Velozzi and his confederacy of car parts makers currently have two autos in development. The Velozzi is a street-legal, 770-hp, two-door sports car able to go from zero to 60 in less than three seconds, with a top speed of about 200 mph.
The Solo is a more mainstream hybrid-electric crossover that will reach 130 mph, fetch 100 mpg and go from zero to 60 in about six seconds, Velozzi claims.
Both cars will use a 50-pound microturbine multifuel engine based on Velozzi's concepts. Both cars will also feature parts that are 40% lighter and more durable -- from Bayer and Velozzi's other partners -- than those of similar cars. Prototypes for both vehicles are expected to ship in the second quarter of 2010, according to the company and several of its suppliers.
The Velozzi is expected to cost from $700,000 to $1.3 million per vehicle, while the Solo will be a lot more affordable, roughly $40,000.

NEXT