High deductibles, but coverage for all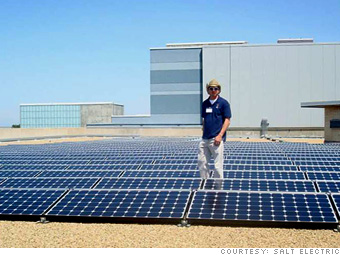 Salt Electric owner Matthew Caryofilles, amid solar panels his company installed.
Salt Electric
Denver
Health care: Six employees, all covered
President Obama headed West in February to sign the $787 billion American Recovery and Reinvestment Act at the Denver Museum of Nature & Science. He picked the spot to symbolize the stimulus bill's funding for accelerating green energy investments.
Local sustainable electricity company Salt Electric earned a keynote spot at the event for its Denver-area work, which included installing solar arrays on the museum's roof. Other Salt Electric clients include Denver's Governor's Mansion, Pepsi Center and Colorado Convention Center.
Matthew Caryofilles started the company in 2003 and grew it to a dozen workers -- until the recession hit. His staff has shrunk to six. Caryofilles hopes to ramp back up again: "Now stimulus money is starting to flow -- slowly. Very slowly," he says. "Projects are being put out for bid, and we are expecting that spring of next year we will be back over those 12 to 20 employees, as long as the markets continue to rise and consumer confidence is high."
Even when times are tight, Caryofilles pays for health insurance for all of his employees -- albeit with a high, $2,000 deductible. "It is pretty non-standard for contracting companies of our size to provide insurance for their employees," Caryofilles says.
Dependents are not covered, but employees can purchase coverage for their family members through the group if they need to. The high-deductible insurance coverage encourages employees to think before rushing for unnecessary treatment, Caryofilles believes.
"It matches with our philosophy of health care in general -- there is a lot of misuse of insurance and disconnection with individual cost," Caryofilles says.
Most of Salt Electric's employees are young and healthy. But one of Caryofilles' older employees had a hip replacement and another takes insulin. Without any insurance, those employees would be saddled with crippling medical bills.
"You watch out what you are getting yourself into and how you are using your money, and then when it comes to something where you really need something, you have coverage," Caryofilles says.
Even with the high deductible, coverage through Kaiser Permanente costs Salt Electric $300 to $400 a month per employee. "It is something that is always on our budget chopping block, and we have to hold out there and say 'wow, this is a burden to carry.'"
But Caryofilles feels an obligation to take care of his employees, many of whom have been with the company since early 2004. He appreciates being able to pay for the coverage with pre-tax dollars, which helps the company absorb an otherwise budget-busting expense.

NEXT: 'You take care of your people'