President Obama meets often with small business owners, peppering his speeches with their stories. We checked in with 6 entrepreneurs touted by the President to find out how they handle health care.
'My jaw dropped to the ground'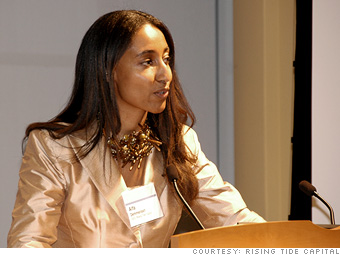 Alfa Demmellash, CEO and cofounder of Rising Tide Capital
Rising Tide Capital
Jersey City, N.J.
Health care: 7 employees, all covered. Three obtain insurance through their spouse's plan.
Some parts of Jersey City are flush with sidewalk cafes, waterfront walkways, and luxury condo buildings. Martin Luther King Drive -- where Rising Tide Capital has its headquarters -- is not.
"There is concentrated poverty, gangs and lots of unpleasantness," says Alfa Demmellash, the CEO and cofounder of the nonprofit organization, which works to cultivate entrepreneurship in low-income communities.
The area brings obvious challenges -- and some surprising, hidden ones. Like higher health care costs. Every year, Demmellash shops around for coverage for Rising Tide Capital's handful of staffers. It turns out her address works against her. Insurance costs have risen about 16% per year for the five years the organization has been in existence, but last year, the premiums shot up by 27%.
"My jaw dropped to the ground," Demmellash says of her reaction to the price quote.
It's not an uncommon problem: Small companies pay 18% more, on average, to insure their workers than do larger companies, according to government research.
Then came the real kicker: "We were surprised to learn that our zip code is a contributing factor. This raises a big issue, especially when it comes to our mission of building up distressed urban communities by increasing small business ownership. It means that businesses who want to open in poor zip codes are likely to face much higher health insurance costs than those in wealthier communities."
Rising Tide Capital's community business training and financing assistance programs earned a hat tip from President Obama during a June 30 speech about community commitment to economic recovery. Demmellash went to the White House to attend.
Back in New Jersey, health care is one of her organization's biggest obstacles. Three of Rising Tide Capital's employees get their insurance through spousal coverage. That leaves four people to insure. Last year, it cost $24,000.
"We are crying about health care health care costs," Demmellash says. "Every year we have to change providers, because we go into the marketplace to get better rates."
Rising Tide Capital is covered through Blue Cross Blue Shield. For 2010, Demmellash and her team opted for fewer benefits to shave costs. The organization can't afford to insure employees' family members.
Demmellash wants to be able to cover all seven staffers if anything happened to their spousal coverage, but the numbers are scary. "When we budget for it we are shocked by how astronomically expensive it is. I don't know how small businesses do it. Well, I do know -- they go without."
NEXT: Buy a new truck or buy health insurance?