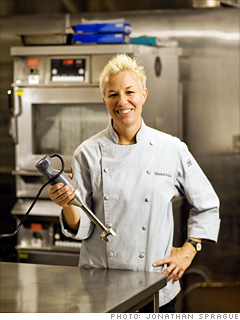 Orson and Citizen Cake, San Francisco
Professional technology of choice: Winston Industries' CVap oven. The high-tech "cook and hold" appliance can thaw, poach, braise, steam, or roast using low--temperature vapor cooking. "It's the most versatile thing I've ever seen. It's hard to [envision] cooking any other way."
Home kitchen essential: Immersion hand blender.
Waste of space: Home panini machine. "I see those infomercials sometimes, and I'm like, 'What?' You can easily make panini at home without buying a press."
Personal technology: iPhone. But outside the kitchen, "I'm not really that techie." -L.D.

NEXT: Richard Blais