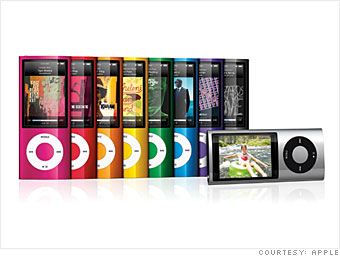 If you're thinking about getting an iPod to store your music, then join the club -- a whopping 73% of MP3 music players sold are iPods, and that puts the new Nano in high demand.
Part of the reason the devices are so popular is because Apple keeps on cramming in new features and slashing the price. The Nano got a $30 price cut from the previous version, and now features a video camera, a pedometer and an FM receiver with the ability to pause live radio.
But if iPods aren't your thing, Microsoft's new Zune HD 16GB is really cool and available for $219. The Zune only works with a PC, so Mac users should stick to something else. But the Zune HD syncs seamlessly with PCs and XBox 360s, giving users the ability to start watching a movie on their PC, take it on the go with their Zune and finish watching on their home TV with their XBox 360.
For those that just want music on the go, the favorite among consumer electronics experts is the Sansa Clip 2GB, which can be had for just $39. Though the iPod shuffle is cool, the Sansa Clip isn't much bigger, and, unlike the Shuffle, sports a tiny screen and easy navigation controls.
NEXT: PlayStation 3 120GB: $299