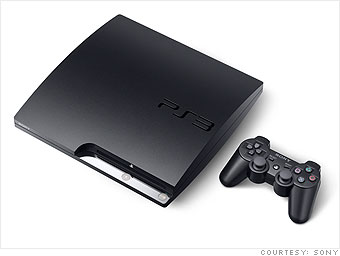 The PlayStation 3 isn't the cheapest video game system out there, but its recent $100 price cut made it the fastest-selling one.
Sony's third generation PlayStation has had a lot of things going for it since its late-2006 release: in addition to its high-definition graphics, and fantastic game selection, it also sports a Blu-ray disc player.
But the initial $599 price tag ($499 for the smaller version) was steep, even for the most passionate gamers. As a result, the Nintendo Wii and Microsoft XBox 360 left PS3 sales in the dust.
Now, a PS3 can be had for under $300. That's not bad for just a Blu-ray player, never mind a video game system.
If you're looking for something less expensive, the Wii and Xbox 360 Arcade Console are now both available for $199, after both recently sported price cuts.
NEXT: Kindle: $259