Consumers looking to buy electronics for holiday gifts won't have to break the bank this season.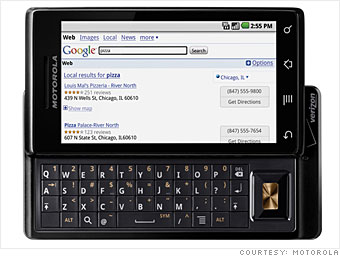 The Droid's "iDon't / Droid does" marketing campaign has raised quite a few eyebrows because of its seemingly preposterous suggestion that Verizon's new Motorola smartphone can hold its own against Apple's iconic iPhone.
But the initial reviews are in, and they've been largely positive -- some testers have even said they were pleasantly surprised with the Droid's functionality. It's the first phone to use Google's new open-source Android 2 operating system, it has 10,000 apps and a pull-out physical keyboard.
Though no one expects the Droid to overtake the iPhone in sales or market share, the Droid could serve as a nice alternative to those who prefer Verizon's much stronger 3G network to the iPhone's shaky 3G network offered exclusively by AT&T.
Still, the Droid isn't for everyone. Despite a healthy collection of apps, the iPhone blows the Droid away with 100,000 applications. And the second generation iPhone 3G can be had for $99 for those looking for a less expensive smartphone.
NEXT: HP Mini 110 series: $299