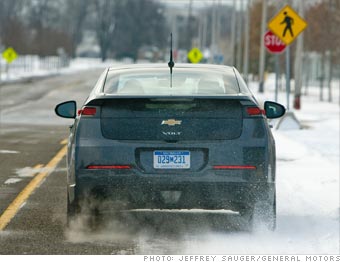 GM's goal with the four-seat Volt is to create an electric car that can genuinely be a family's everyday transportation. Electric cars are going to scare away a lot of potential customers worried about what might happen if they run out of power before their driving day is done. Charging an electric car usually takes hours.
Other carmakers, like Nissan and Ford, have chosen to use bigger batteries that can drive up to 100 miles on a single charge. But Americans typically drive less than 40 miles on most days, so most of that expensive battery capacity will be wasted much of the time. And sometimes we want to drive farther than 100 miles in a day, and those times it won't be enough. Besides, what if you forget to plug it in overnight?
That's why the Volt is designed to go 40 miles on a fully charged battery. That's plenty for most American's daily commutes and errands. And if you want to drive further or simply don't charge it, no worries. You can go about 300 miles before you need to recharge battery or refill the tank.
So now we know how the Volt drives when the battery runs low. The next question is how much it will cost -- and many industry watchers don't think it'll be particularly cheap. The figure cited most often for the Volt is about $40,000. The car is expected to be heavily subsidized, so car buyers could get one for about $32,000 after federal tax rebates.
Considering the fact that many drivers could go weeks without needing to refill their gas tanks, and given how good the Volt seems so far, that's probably not a bad deal.

NEXT