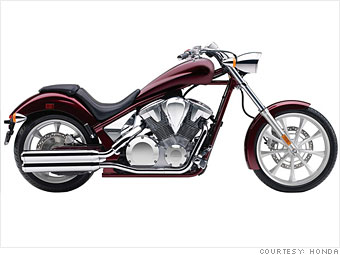 Honda's motorcycle sales in North America have been ravaged by the recession. For the fiscal year ended March 30, unit sales plunged 48% to 98,000.
But Honda continues to innovate. Last year, it introduced the Fury, recreating a classic chopper style with a very low seat height and long front end.
Classic choppers are a long way from Honda's origins as a provider of inexpensive transportation. Its first real motorcycle was a 50 cc. model that came out in 1949.
By 1965, Honda began to produce larger machines amid the expansion of Japan's economy. By 1997, Honda had produced 100 million motorcycles and had become the world's largest manufacturer.
An archetypal cruiser, the Gold Wing, was introduced in 1980 and has been in production ever since. In 2007, Honda became the first manufacturer to offer a motorcycle airbag. New models can be equipped with cruise control, heated grips and a navigation system. Coming soon: Internet access and 3-D television?
NEXT: Yamaha
Last updated October 27 2010: 1:33 PM ET