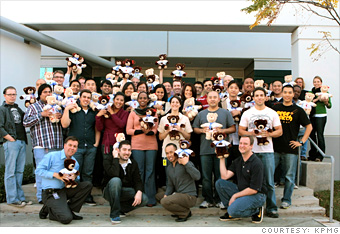 Employees put together holiday packages for children's hospitals during KPMG's "Operation Holiday Bear Hugs."
2010 Best Companies rank: 88
Current openings: 2,700
KPMG's audit, tax, and advisory practices are hiring entry-level candidates to start in the fall, as well as interns to start this summer.
The tax practice is hiring managers and senior managers to work in federal tax, economic and valuation services; international corporate and executive services; mergers and acquisitions, and state and local tax services.
The advisory business is hiring professionals with business performance, technology and regulatory experience across such industries as financial services, insurance, consumer, industrial, and the federal government.
In audit, there's particular interest in federal government audit/accounting experience.
What are you looking for?
We look for candidates who can thrive in a high-performing, team environment.... We're also looking for people who demonstrate our firm's core values and have high integrity. From a client service perspective, we want people who have good technical skills, problem-solving abilities, and commercial focus.
Any secrets to impressing your recruiter?
Our firm has a well-defined and oft-communicated set of seven core values that we expect all of our employees -- and prospective candidates -- to demonstrate, which includes traits such as leading by example, respecting the individual, being open and honest in communication, and above all, acting with integrity.
--Interview with Raymond Zardetto, senior director, communications
NEXT: FedEx
Last updated January 25 2010: 1:37 PM ET
*Number of job openings as of Jan. 13, 2010.