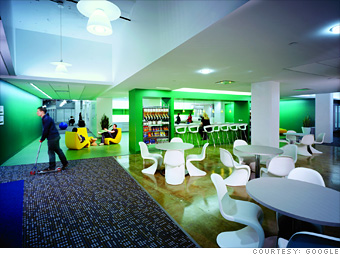 2010 Best Companies rank: 4
Current openings: 1,000
Positions across the globe and at all levels, ranging from software engineers and user-experience researchers to product marketing, finance and human resources professionals.
What are you looking for?
While we don't look for one type of person, Googlers do have a number of traits in common. Most notably, we find that the people who thrive here get energized by the challenge of solving complex problems, share our passion for using technology to make a difference in the lives of our users, demonstrate commitment to the broader community, and thrive working in ambiguous situations.
Any secrets to impressing your recruiter?
There really is no secret sauce. What we want most is for a candidate to be himself or herself. Candidates should bring their whole selves to the interview and not try to fit some mold that they think Google wants. We encourage you to be candid and active in your interview. Clearly articulate what skills you bring and how a role at Google fits into your broader career path.
--Interview with Ann Pellegrini, people programs specialist
NEXT: Qualcomm
Last updated January 25 2010: 1:37 PM ET
*Number of job openings as of Jan. 13, 2010.