Prices for art, antiques, and fine wine are still down significantly. They probably won't beat stocks long term - but they're a whole lot more fun to own.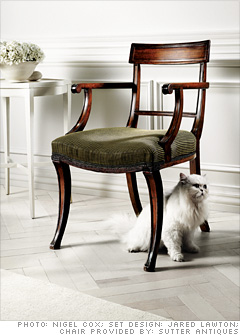 What: 19th-century Regency chairs (like this one)
Sold for: $10,625 for a set of eight in November
Antiques market: down 18%
Minimum investment
: $1,000
The scoop
: The value of English antiques has fallen nearly 18% since the peak way back in 2002, according to
Antique Collecting
magazine's Antique Furniture Price Index (there's no comparable index for American pieces). Blame this wicked slump on '00s trendsetters who embraced mid-century modern furniture rather than traditional styles, says John Andrews, managing editor of
Antique Collecting
. But the taste pendulum is beginning to swing away from modernism, which bodes well for older pieces.
What to look for
: English and American furniture made in the early-18th to early-19th centuries, such as Georgian, Regency, and Federal. Because they're not super-ornate, these styles work well in modern interiors. "There's a universality to them that should stand the test of time," says James Goodwin, author of "The International Art Markets." With formal dining on the wane, you can find particularly good deals on dining tables and chairs. A set of eight mahogany Regency chairs from 1810 recently sold for $10,635 at Christie's. Look for pieces in good condition, with the original finish.
How to buy
: Try local auctioneers such as Bonhams & Butterfields in San Francisco, plus the more affordable sales at Christie's and Sotheby's - such as Christie's Interiors auctions, held nine times a year in New York City. Winning bids there generally range from $500 to $10,000. As with prints and photographs, you can check out the goods on their sites and bid remotely.
NEXT: Paintings and drawings