Prices for art, antiques, and fine wine are still down significantly. They probably won't beat stocks long term - but they're a whole lot more fun to own.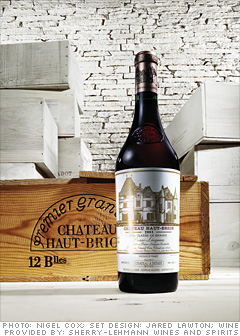 What: Case of 2003 Chateau Haut-Brion
Sold for: $3,840 in November
Wine market: down 24%
Minimum investment
: $2,000/case
The scoop
: According to the
Wine Spectator
Auction Index, investment-grade wine sold at auction has outperformed the S&P 500 since 1996, the first year the magazine began collecting data. (Wine prices rose an annualized 7.2% vs. 6.1% for stocks.) Values are now about 24% lower than they were at the 2008 high. But before you get too excited, remember that roughly half a century after it's made, the best wine will have peaked. "Then it will gradually depreciate by more than 50%," warns Marc Lazar, president of Cellar Advisors, a firm that counsels wine investors. So sell (or drink!) before then.
What to look for
: Experts recommend you stick with Bordeaux, which makes up most of the fine wine sold on the secondary market. Specifically, look for "first growth" Bordeaux from one of the top chateaus in the region: Haut-Brion, Lafite Rothschild, Latour, Margaux, or Mouton Rothschild. "They're the most expensive, but they also give the best returns," says Jamie Ritchie, head of Sotheby's wine department in North America. For best appreciation potential, Charles Curtis, head of North American wine sales for Christie's, recommends these excellent vintages: 1995, 1996, 2000, 2003 or 2005. Buy full cases in the original box, which can run you $2,000 to as much as $15,000 or so each.
How to buy
: Top-notch wine shops stock, or can order, these bottles. They'll mark them up about 20% to 30% - not much more than you'd pay at auction. To find the best prices on thousands of wines at stores around the country, go to
wine-searcher.com
. Prefer to bid? Check the big-name auctioneers, plus specialized wine ones such as Hart Davis Hart in Chicago and Zachys in New York City. And whatever you do, be sure to store the bottles far from thirsty houseguests.
More galleries