Burton G. Malkiel, Princeton economics professor and author of 'A Random Walk Down Wall Street,' and Charles D. Ellis, author of 'Winning the Loser's Game,' have teamed up to write 'The Elements of Investing.'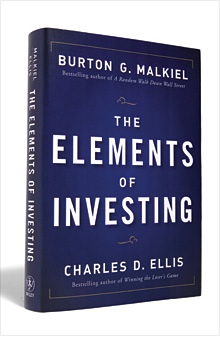 We're both in our seventies. So is Warren Buffett. The main difference between his spectacular results at Berkshire Hathaway and our good results is not the economy and not the market, but the man from Omaha. He is simply a better investor than just about any other in the world. Brilliant, consistently rational, and blessed with a superb mind for business, he has managed to avoid the mistakes that have crushed so many portfolios. Let's look at two examples.
In early 2000, Berkshire Hathaway's portfolio had underperformed funds that enjoyed spectacular returns by loading up on stocks of technology companies and Internet startups. Buffett avoided all tech stocks. He told his investors that he refused to invest in any company whose business he did not fully understand - and he didn't claim to understand the complicated, fast-changing technology business - or where he could not figure out how the business model would sustain a growing stream of earnings. Some said he was passé, a fuddy-duddy. Buffett had the last laugh when Internet-related stocks came crashing back to earth.
In 2005 and 2006, Buffett largely avoided the mortgage-backed securities and derivatives that found their way into many investment portfolios. Again, his view was that they were too complex and opaque. He called them "financial weapons of mass destruction." When they brought down many a financial institution (and ravaged our entire financial system), Berkshire Hathaway avoided the worst of the meltdown.
Avoiding mistakes - such as the mistake of incurring unnecessary risks - is one of the great secrets of investment success. Be alert to these common ones that can prevent you from realizing your goals.
NEXT: Mistake #1: Overconfidence