These sites have tools you can trust to help you make better money decisions.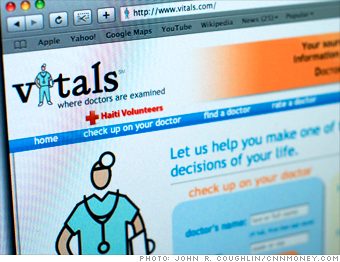 Best Site:
Vitals.com
Now that many health insurers are giving stingier reimbursements to patients who venture out of network, finding a great doctor who's in your plan is key to keeping costs down. You need Vitals -- a comprehensive physician-rating site that can show you only doctors who are covered by your health plan. It tells you their education, board certifications, work backgrounds, and patient ratings.
Coolest feature:
Sick and not sure what kind of doctor you need? Input your symptoms and Vitals will guide you to relevant specialists near you.
Try this too:
pricedoc.com
, a new site that shows you what specific doctors around the country charge for various procedures.
NEXT: 13 Which hospital should I go to?
Last updated February 19 2010: 12:01 PM ET
Note: We didn't assess sites that deliver primarily news and information, such as WSJ.com or CNNMoney.com.