Our annual guide to the best stocks and funds, credit cards, career moves, retirement strategies, and much more.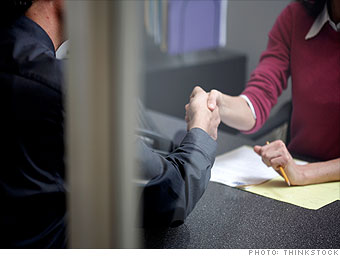 Business card exchanger
From
LinkedIn.com
This free iPhone application eliminates the need for paper cards. Just aim your phone at that of another user and zap a LinkedIn connection. "You'll always have updated info on where people work and how to contact them," says Adam Nash, who helped develop the mobile app.
Salary negotiation helper
From:
PayScale.com
How does your comp stack up? PayScale's salary charts let you compare it using a variety of factors, including your years of experience, location, employer type, even certifications you hold -- giving you ammunition when it's time to lobby for your next raise.
Interview prepper
From
Glassdoor.com
This website has collected 15,500 evaluations of job interviews at 5,500 companies nationwide. Go to a firm's profile page and click the Interviews tab. You'll see a rating of how difficult the employer's questions were, examples of frequently asked ones, and other key info.
NEXT: 65. Best online career expert