Our annual guide to the best stocks and funds, credit cards, career moves, retirement strategies, and much more.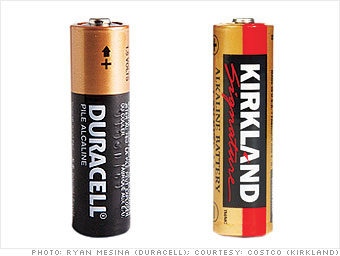 Product:
Batteries
Big brand:
Duracell ($12.99 for 36 AA batteries)
Savings (per unit):
42%
Store brand:
Costco's Kirkland ($9.98 for 48 AA batteries
"Costco's Kirkland brand is just as good as Duracell," Steenkamp says.
NEXT: 81. Best times to skip big brands
Last updated May 12 2010: 10:39 AM ET
Source: Costco in Mount Laurel, N.J.