Our annual guide to the best stocks and funds, credit cards, career moves, retirement strategies, and much more.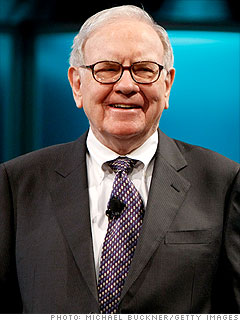 Revere the Oracle of Omaha? Then you know he's concerned about the market's increasingly lofty valuations. (The price/earnings ratio of the S&P 500 is 17.9.) We pored over the stocks he holds through Berkshire Hathaway -- which itself has a P/E of 25.0 --to identify three that offer the best values now.
Johnson & Johnson P/E:
14.1
1-year return:
27.7%
% of BH portfolio¹:
2%1
With health insurance soon to cover more Americans, demand for pharmaceuticals should rise, says Morningstar analyst Damien Conover. And J&J boasts a robust pipeline of new drugs.
Wal-Mart P/E:
15.2
1-year return:
8.9%
% of BH portfolio¹:
2%
Thanks to bargain-seeking consumers, the discount retailing king should prosper even if the recovery remains weak, says Peter Benedict, an analyst at Robert W. Baird & Co.
Wells Fargo P/E:
13.6
1-year return:
119.9%
% of BH portfolio¹:
11%
Buffett recently added to his huge stake in this well-run West Coast bank, which has already repaid its bailout money.
NEXT: 15-18. Best steady eddies
Last updated May 12 2010: 10:39 AM ET
Source: Bloomberg, Baseline, 2009 Berkshire Hathaway filings, and shareholder letter
Returns for the 12 months ended March 31. P/Es are trailing 12-month. ¹Percent of Berkshire's publicly traded portfolio, which does not includewholly owned companies such as Geico.