Our annual guide to the best stocks and funds, credit cards, career moves, retirement strategies, and much more.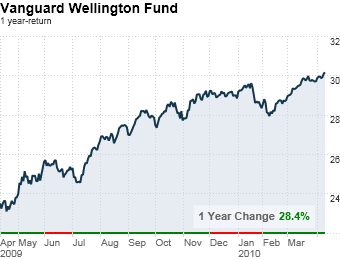 These four no-load funds, which hold both stocks and bonds, have proved themselves paragons of consistency that regularly outperform their peers over the long haul. Buy one and you just may sleep a little better at night.
Mairs & Power Balanced3-yr. ann. return:
1.6%
10-yr. ann. return:
5.9%
Managers of this small Minnesota fund favor stocks of Midwestern companies "that they know well, which has obvious advantages," says Morningstar analyst William Rocco.
Oakmark Equity & Income3-yr. ann. return:
4.5%
10-yr. ann. return:
9.8%
This balanced fund is known for protecting investors during bad times: In 2008 it was down less than most competitors, thanks to a heaping helping of Treasuries. It's currently about 60% in stocks.
Parnassus Equity Income3-yr. ann. return:
4.4%
10-yr. ann. return:
6.1%
Manager Todd Ahlsten looks for stocks that have a dividend yield of 1.5% to 4% -- "not so little that [the payout] doesn't matter, but not so much that the company can't grow," he says.
Vanguard Wellington 3-yr. ann. return:
1.8%
10-yr. ann. return:
6.7%
This venerable fund keeps 60% to 70% of its assets in stocks and favors companies with solid balance sheets and attractive P/E ratios. Its fees run 0.34% a year, about a third what its peers charge.
NEXT: 19-22. Best home-selling ideas
Last updated May 12 2010: 10:39 AM ET
Source: Morningstar
As of March 31