Our annual guide to the best stocks and funds, credit cards, career moves, retirement strategies, and much more.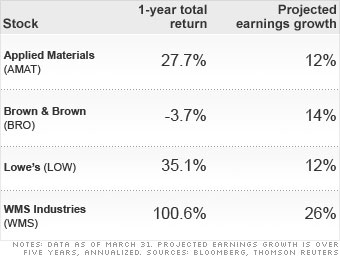 Cocktail-party chatter about the next hot stock is back. Ignore that tipster with the margarita and check out the picks below. Experts say they have good growth prospects as the economy strengthens.
Applied Materials:
Paul Larson, an equities strategist at Morningstar, pegs sales of semiconductor equipment (which suffered mightily during the recession) to get a major boost soon.
Brown & Brown
: This insurance broker has "an excellent niche" serving smaller businesses, says Brad Hinton, a portfolio anager at Weitz Funds. It's positioned to buy competitors on the cheap.
Lowe's:
The stock of the big home-supply chain is priced as though today's anemic housing market will last forever. "That's highly unlikely," Larson says.
WMS Industries
: Robert Stimpson, a portfolio manager at Oak Associates, expects spending on gaming equipment (WMS makes it) to pick up as casinos expand and replace old machines.
NEXT: 5. Best buy-and-hold blogger