Get tips from your peers on how to solve your thorniest money challenges.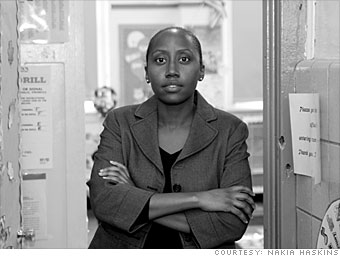 Nakia Haskins, Brooklyn, NY
My daughter, a pharmacist, earns more than my son, a middle-school teacher. I am proud of them both but plan to leave most of my estate to my son. Am I being fair? --K., Richardson, Texas
Our reader says:
Tell your children what you're planning and why. You don't want them to find out at the reading of your will and possibly cause friction between them at a time when they'll need each other most.
--Nakia Haskins, Brooklyn
The expert says:
What if your daughter becomes ill or your son wins the lottery? asks attorney Colleen Barney, co-author of the estate planning book Best Intentions. You won't be able to adjust your bequests to their changed circumstances after you're gone. But you can help the child who needs it most now: You can give up to $13,000 per recipient a year without triggering a gift tax.
NEXT: Credit card snooping
Last updated June 17 2010: 8:33 AM ET