Especially now, plentiful job opportunities are key to making a great place to live. These 25 counties have experienced the most job growth over the last nine years.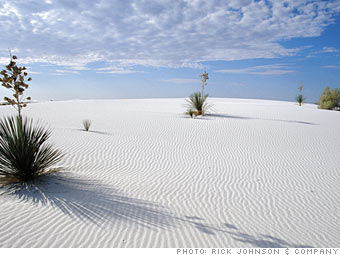 Towns include:
Las Cruces
Job growth (2000-2009):
34.5%
Dona Ana County might look like a wasteland of sand and cactus, but don't be mistaken: This desert region is a burgeoning economic oasis. The area boasts lower average land and labor costs than the rest of the country, and with access to several Mexico border crossings, Dona Ana benefits from the growth of businesses on both sides of the fence.
Foxconn, a giant Taiwanese electronics manufacturer, recently built a large maquiladora on the Mexico side that could employ up to 20,000 people. Stateside, the new factory has spurred the growth of other manufacturing and industrial suppliers.
Serving as the home base to Spaceport America -- the launch pad for Virgin Galactic's suborbital flights -- the county's largest city, Las Cruces, promises to be a hub for commercial space tourism. With New Mexico State University and two large military bases nearby, aviation, aerospace and even solar energy jobs are also on the rise. -- A.C

NEXT: Benton County, AR

Last updated July 13 2010: 5:14 PM ET