Especially now, plentiful job opportunities are key to making a great place to live. These 25 counties have experienced the most job growth over the last nine years.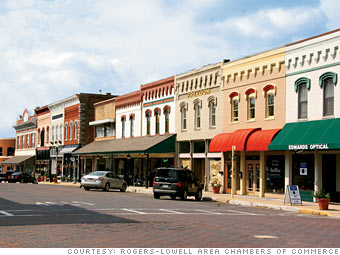 Towns include:
Rogers
Job growth (2000-2009):
32.1%
Benton may as well be known as Wal-Martville -- the world's largest retailer is based there and serves as the heart of the region's economic pulse. Companies like Kellogg's, Johnson & Johnson, Kraft Foods and Procter & Gamble have set up regional sales offices there to serve Wal-Mart, making the area's list of largest employers read like a Who's Who of household brands.
In the last five years, service and retail jobs have flourished as a flurry of growth led to the development of a 106-acre shopping and entertainment district, a hotel convention center and a 200-bed hospital -- all in the small town of Rogers, AR, which has a population of less than 60,000.
And while other areas of the country might cry Chicken Little as they shed jobs, poultry has been good to Benton County since the 1930s -- Tyson Foods, headquartered there, continues to drive growth. -- A.C.

NEXT: Maricopa County, AZ

Last updated July 13 2010: 5:14 PM ET