Especially now, plentiful job opportunities are key to making a great place to live. These 25 counties have experienced the most job growth over the last nine years.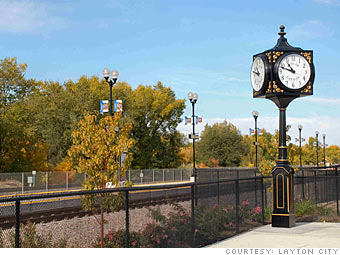 Towns include:
Layton
Job growth (2000-2009):
31.5%
Every summer, on a majestic Davis County island in the Great Salt Lake, locals take to horses for a two-day bison roundup. The rest of the time? They've been corralling jobs in heavy industry.
Aerospace manufacturing powers a high-flying economy that includes Northrop Grumman and the 20,000-employee Hill Air Force Base. Ben Hart, an economic development specialist for the city of Layton, says the spread of composite materials from military equipment to consumer products, like sports equipment, is helping more companies lift off.
Careful planning, Hart says, helped Davis maintain its small-town vibe. Retail stores and hospitals continue to sprout. And a base of well-educated young professionals, as well as four stops on a new commuter rail system that reaches Salt Lake City, should make the county an even hotter destination for job-seekers. -- B.W.

NEXT: Faulkner County, AR

Last updated July 13 2010: 5:14 PM ET