Bethesda, Md., residents pull in more than $170,000 a year. Which other places in our Best Places database have high incomes?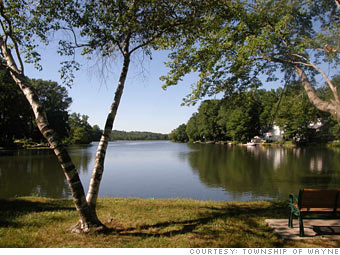 Population: 53,470
Median family income (per year): $120,295
Median home price: $385,000
The advent of modern highways transformed Wayne from a quiet farming community into a thriving town at the crossroads of northern New Jersey. Though small in size, its prime location helped it become the headquarters for several national firms.
Toys 'R' Us and others line Valley Road Extension, a built-from-scratch, model corporate parkway with leafy landscaping and upscale architecture. Executives and other prosperous residents live in waterfront cottages and mansions along manmade lakes: Lions Head Lake, Pines Lake, Packanack Lake.
James Roe Pool, a resort-like community pool, is a home away from home for many Wayne residents from Memorial Day until Labor Day.

See complete data and interactive map for Wayne

NEXT: Weston, FL

Last updated July 14 2010: 11:43 AM ET