You can put away a lot more than the average American without living a deprived life.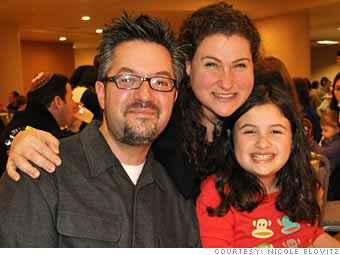 Super Savers:
Nicole, 40, and Mitch Elovitz, 44, daughter Maude, 11
Savings Rate:
35%
Home:
Lake Oswego, Ore.
Occupations:
Nicole is director of marketing for a clean energy technology company; Mitch is a manager for the county government
Nicole is a master of the long wait. She regularly holds off for three to six months before buying anything that costs more than $100, and she never spends more than $30 without first checking with Mitch (he does the same). She once put off buying a $3.99 ringtone for her cell phone for weeks to see if she really wanted it. And when she saw a $195 pair of earrings she liked, she trimmed the grocery budget for five months to find the cash. "I usually mentally buy something before I actually do it."
Nicole and Mitch budget for everything, from their property taxes (which they prepay to get a 10% break) to vacations ($250 a month) and entertainment ($400 a month). Because they've socked away $250 a month since the day daughter Maude was born 11 years ago, they already have $50,000 in her college 529 plan. And they constantly are looking for ways to save. But it's their ability to curb impulse buys that has fueled the family's savings. "We're not perfect, and sometimes we overspend. But if you have a game plan for savings, you don't get too far off track," says Nicole.
NEXT: Create multiple streams of income
Last updated July 19 2010: 9:04 AM ET