These hidden values offer the chance for returns that shine -- as long as you've got an appetite for some risk.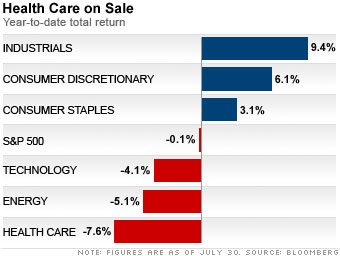 This year, health care stocks have been the worst-performing group in the S&P 500. As a result, the sector is trading at 11 times 2010 earnings, nearly half its historical median.
But over the past few years, drugmakers have diversified product lines, cut costs and expanded into emerging markets. And even if reform puts pressure on pricing at home, health care spending will continue to rise as the population ages.
How to invest:
Top picks include
Abbott
, trading at just 12 times 2010 earnings. Its diversified product line will offset earnings pressure in any one division. Also compelling:
Pfizer
. The company's aggressive cost cutting and healthy dividend should counter an expected earnings hit in 2012, the first year after the patent on Lipitor expires. Or you can dampen the risk of owning just one or two stocks by investing through an exchange-traded fund, such as
Health Care Select Sector SPDR
.
What could go wrong:
Losses from drug patent expirations could be more severe than expected, and the full impact of reform won't be clear for a few years.
NEXT: Oil drillers
Last updated August 13 2010: 3:51 AM ET