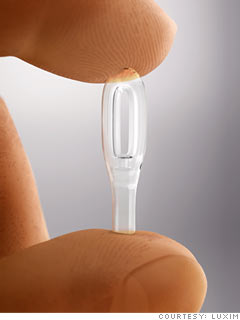 The LiFi system uses Light Emitting Plasma technology to produce a bright and energy efficient light for industrial purposes.
The tiny bulbs produce a surprisingly bright light designed for "high illuminance applications" such as street lamps, parking lots and factory floors.
The LiFi system can cut energy costs in half for governments, retailers, distributors, sporting venues and manufacturers, according to Luxim, the Silicon Valley-based company that developed the technology.
Luxim says the LiFi system is a more efficient and higher quality alternative to traditional metal halide or sodium lamps. The system also boasts a life span that is about three times that of similar lighting fixtures.