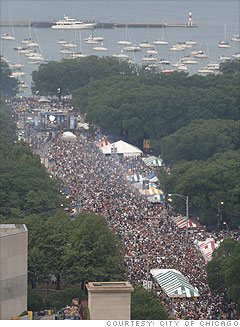 Annual savings: $3.8 million
Most Americans consider Fourth of July fireworks right up there with life and liberty on the roster of inalienable rights. But Chicagoans will have to make do with a more subdued version of their annual Big Bang.
Chicago traditionally launched its fireworks extravaganza the night before Independence Day as a crescendo to the weeklong Taste of Chicago food and music festival. More than 1 million people turned out for last year's celebration. But for 2010, the city will instead stage three separate, simultaneous sky shows on the Fourth. Breaking the big crowd into smaller groups will save Chicago a whopping $1 million in security and operational costs.
Other popular traditions like Venetian Night, a boat parade and fireworks shebang, have been canceled outright as the city works to trim $3.8 million from its special events budget.

NEXT: School buses stop rolling - Detroit