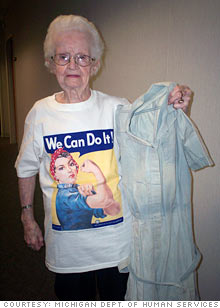 Helen Hansen shows off her "Rosie the riveter" uniform from the 1940s.
Office workerStanton, Michigan
"I was Rosie the riveter, on the center wing of the bombers," Hanson says, because she assembled B-24s during World War II.
She remembers when federal agents "with black hats" took away one of her co-workers. "They motioned for her to come down [from the airplane] and that was the last time you saw her," she says. "Come to find out that little gal was a Russian spy, and she was riveting in the places she wasn't supposed to."
Hansen later worked at a refrigerator factory, various restaurants, bars, a dry cleaner, a hotel and a thrift store. "I guess I've done just about everything," she says. "It seems like I've always been lucky getting jobs." Three years after retiring as a city clerk, the non-profit group Experience Works, which finds jobs for elderly people, placed her as an office worker for the Michigan Department of Human Services. "I've got to keep going," she says. "I don't want to retire."

NEXT: Chloe Grimm, 94