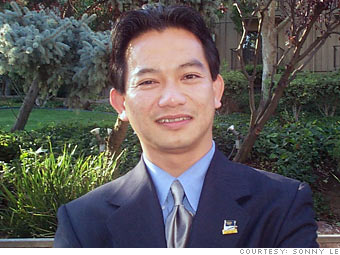 Sonny Le, 44, lives in Oakland, Calif.
Job: Media specialist
Location: Oakland, Calif.
I was born and raised in Vietnam, spent two years living in refugee camps in Singapore and Indonesia, and finally arrived to the United States in 1981. I had been doing community activist work for 15 years in the Bay Area, and the Census Bureau found me in a sort of roundabout way for the 2000 census.
They were looking for someone to handle outreach for the northern half of California, Washington, Alaska, Idaho and Oregon. I didn't know anything about it then, but it didn't take long for me to be seduced by the whole idea of the American census because it's such a unique process--and I'm back for my second census.
America is a very "me too" society-- everyone wants to be part of it, but once they are, they don't want to do their part. My job is to use every tool in my toolbox to appeal to those that are skeptical and convince them to look beyond themselves and do their part to build their community.
Immigrants and young people are the most difficult groups to reach. A lot of immigrants were oppressed by their former governments, so they have developed a sense of cynicism for anything the government tries to do on their behalf. And young people don't feel like they belong to their communities--they have Facebook and MySpace.
I was a refugee not too long ago, and now I'm the chief spokesperson for 4.5 states that are bigger than the country I came from. I'm grateful to be part of something so democratic--everyone is counted the same way and has a seat at the table. I'd be thrilled to come back for the 2020 census, and in between, I'll work for other non-profits and help them leverage their tools to get their voices heard.

NEXT: Audrey Browder