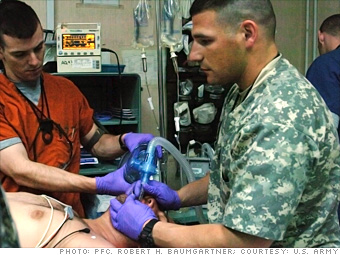 Emergency Physician
I am an emergency medicine physician and an active duty army officer. My opinion is my own and in no way represents the government or the military.
I have worked in private practice in both busy inner city trauma centers, suburban settings, and both urban and remote locations in Iraq.
People [in the U.S.] choose where they want to seek care. That freedom to choose is what guarantees people get the care they need. They come to the ER because they get comprehensive service and they generally get their complaints addressed in a timely manner.
The new health care legislation may increase the number of people with health insurance. But unless there are more doctors being created in the United States, and the numbers of medical school graduates start increasing for things like primary care and emergency medicine, there won't be anywhere for these people to go except where they're already going - the ER.
By law, emergency room doctors have to see everyone regardless of their ability to pay.Sure, the amount of care that is not reimbursed may go down some. But the real problem is shortage of providers, not a shortage of insurance.
The new health care law does nothing to address this. They whiffed completely. In the end, we have always had a safety net mandated but not funded by the Emergency Medical Treatment and Active Labor Act, which guarantees stabilizing medical treatment for a patient or for an unborn baby without respect to ability to pay.
That means I have to see you without asking how you plan to pay. However, it costs money in the form of materials, facility costs, salaries, and malpractice coverage to see patients. Just because I can't close my doors to you doesn't mean you don't have the responsibility to pay for the care you [get].

NEXT: 'Lack of meaningful tort reform is very concerning'