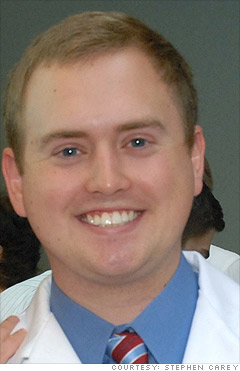 Medical student
Philadelphia College of Osteopathic Medicine
I am a medical student. I go to a private school where the tuition is currently is $38,500 per year and will next year rise to $40,500.
The amount of total debt just for tuition is about $160,000, with another $60,000 over the four years for living expenses. This totals to $220,000 in debt when we get out. This is completely independent of undergraduate debt which can also be substantial.
This debt affects how medical students practice. When I entered medical school I was almost 24. When I finish four years of medical school and three years of residency, I will be 31 and just starting to pay off an effective mortgage of 220,000.
I know what I am getting into with a career in medicine and would not trade it for the world. At 31, I will be starting my family. It is important to think about where your kids are going to school and being able to spend some time with them all while having a job that lets you pay off your first mortgage and school debt.
Doctors are going to try for the most lucrative positions in the best areas, not because they are greedy but because they are just starting their careers and families, have lost nine years of earning potential, and have debt to pay off.
I would love to choose what type of medicine I practice without thinking about money - but with debt approaching a quarter of a million dollars, money will influence where I end up.
The new bill does provide incentives for primary care but it does not do enough to address the fact that debt still is one of the limiting factors in deciding what and where to practice as physicians.

NEXT: 'I may be out of business'