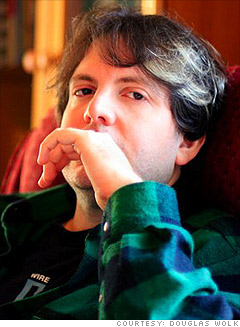 Job: Writer
Hometown: Portland, OR
My wife and I are both self-employed, so health care has always been a huge hassle for us. It's protected us against major calamities, but we haven't had many. For more mundane health issues, virtually every time we've needed to do something with our insurance we end up banging our heads against the wall.
For example, when we wanted to get flu shots, we found out going through our insurance would have cost more than simply buying the shots outright. It makes no sense.
We're on the phone constantly, and many conversations end with: "Oh, actually, we don't cover that." The $500 a month is a a lot more than we'd like to be paying, but with a 5-year-old child we can't forgo insurance.
So health care reform is something I've been dreaming of for a long time. But I wanted a single-payer system like so many other countries; to me, it makes so much more sense. I think it's ridiculous to treat medical care as if it were a commodity. If you have a government with resources, one that cares at all about the people, then health care should be for everyone.
I would like to see even more of a guarantee of coverage for everyone, and more mechanisms for keeping the costs down. Of course it isn't perfect, but I see steps going in the right direction. I spent six months in Europe as a teenager, and the whole time I always wondered: Why isn't it like this back home?

NEXT: Lita Epstein, 57, self-employed