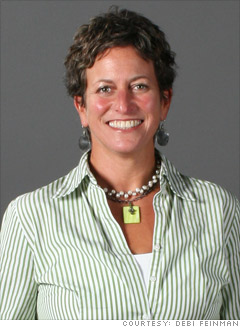 Debi Feinman, 42, lives in Virginia Beach, Va.
Name: Debi Feinman
My recession ended: November 2009
Location: Virginia Beach, Va.
I had been a stay-at-home mom for 12 years and my husband, who's a homebuilder, told me I needed to get a job and help contribute. I knew I couldn't work a typical 9-5 job and still provide the parental support my kids were used to, so I looked for at-home jobs.
I became a representative for Silpada Designs, and within two months of selling their jewelry, I paid off my investments and started earning. At first I was helping out with essentials like our mortgage payments, but now my business is able to provide my family with the luxuries we were used to. Our favorite thing to do is skiing, and we just got back from a spring break trip in Colorado funded by my business.

NEXT: Best month in years