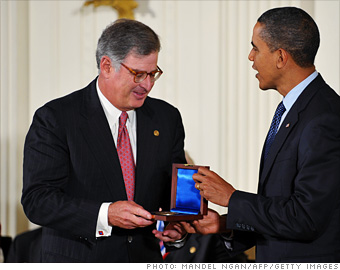 Company: IBM
Cash compensation: $7.6 million
Stock and options: $13.5 million
Palmisano's 2009 take includes $1.1 million in "other compensation," including $320,065 of personal travel on company aircraft. Because family members sometimes join him aboard IBM planes, the company adds, "Mr. Palmisano has contributed $63,000 to the IBM International Foundation to fund contributions to Columbia University."
Source:
Equilar Inc.
NEXT: Robert J. Stevens: $20.5 million
Last updated April 06 2010: 4:17 PM ET
Note: Total compensation includes actual salary received, discretionary and performance-based bonus payouts, the grant-date fair value of new stock and option awards and other compensation. If relevant, other compensation includes severance payments.
Equilar, an executive compensation research firm
, looked at 200 CEOs at the 199 largest companies (Motorola has co-CEOs) that filed their 2009 proxies as of March 26, 2010. All companies have revenue greater than $5.7 Billion. The list includes companies with fiscal year-ends spanning from May 31, 2009 to January 31, 2010.