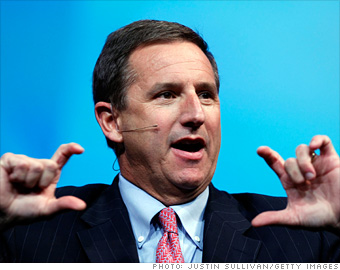 Company: Hewlett-Packard
Cash compensation: $17.6 million
Stock and options: $6.6 million
Unlike most members of this list, most of Hurd's pay came in the form of a cash bonus, which totaled $15.8 million in 2009. Still, his pay fell more than 29% last year, as his salary and bonus were slashed. At the helm of the world's largest tech company, Hurd oversaw even more growth at HP in 2009, when his company agreed to buy networking company 3Com in November. HP recovered from a lingering PC sales slump by cutting costs and jobs, and posted impressive earnings results and an improved outlook by the end of the year. Shares rose nearly 40%, matching its peers.
Source:
Equilar Inc.
NEXT: James Hackett: $23.5 million
Last updated April 06 2010: 4:17 PM ET
Note: Total compensation includes actual salary received, discretionary and performance-based bonus payouts, the grant-date fair value of new stock and option awards and other compensation. If relevant, other compensation includes severance payments.
Equilar, an executive compensation research firm
, looked at 200 CEOs at the 199 largest companies (Motorola has co-CEOs) that filed their 2009 proxies as of March 26, 2010. All companies have revenue greater than $5.7 Billion. The list includes companies with fiscal year-ends spanning from May 31, 2009 to January 31, 2010.