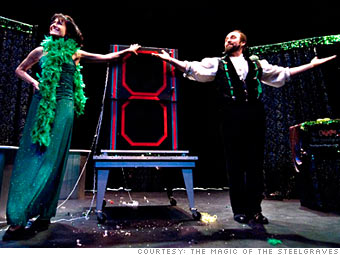 Angelique Steelgrave, performing a magic show with her husband, Markus.
Lawmakers in Maine are going after children's entertainment to make a little extra money for the state.
A bill proposing a 5% state tax on a slew of things, including comedians, clowns, jugglers, ventriloquists, petting zoos, paintball and even haunted hay rides will be voted on this summer and would go into effect in January 2011.
"People make fun of the bill, saying we're taxing clowns and that kind of thing, but that's not the way to look at it," said Maine House Majority Leader John Piotti. "It's a comprehensive change and we're doing it in a very smart way."
But purveyors of such services are afraid their profits will disappear. Angelique Steelgrave, who works with her husband as a full-time magician, said that this tax will have a huge impact on small entertainment businesses like hers.
"We hate the idea," she said. "Not a lot of businesses these days have the luxury of raising prices 5%, and in a lot of cases, this could be a serious amount of money we would either have to charge clients or eat ourselves."
NEXT: Up, up and away