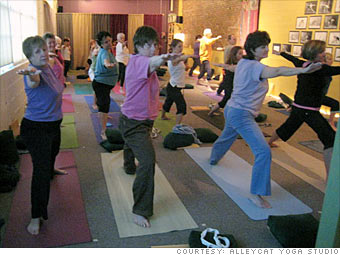 alleyCat Yoga, based in Columbia, Missouri
Missouri's long-standing tax on yoga has come under fire in recent months after the state decided to re-enforce the levy despite opposition to a tax on what many yoga enthusiasts view as a spiritual practice.
Yoga is currently classified as a recreational service in Missouri and is taxed along with athletic events like Cardinal games and fitness club memberships.
But yoga studio owners and their customers argue that it's part of a religion rather than a recreational activity.
"I understand the state needs money, but if anyone takes a minute to look at this, they will see that it's just the wrong thing to do," said Ken McRae, owner of alleyCat Yoga. "This is against the law. You cannot tax a religion, and by every definition, yoga is a religion."
Although several bills have recently been proposed to exempt yoga from the state's 4% tax rate, the legislative session ends May 14, so they are unlikely to be approved, said a spokesman for the Missouri House of Representatives.
NEXT: Trying to play cupid