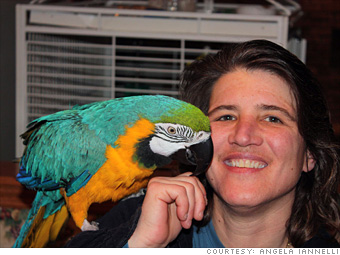 Angela Iannelli and her pet parrot, Luke.
This story is for the birds.
Last October, Angela Iannelli came home to find her door padlocked and her pet parrot, Luke, gone.
Not only had Bank of America wrongfully seized the house, but, she said in a formal complaint, the bank's foreclosure agent ran amok in her home, in addition to confiscating her companion.
Her utilities were shut off, wires were cut, and sinks and toilets were filled with antifreeze to prevent pipes from freezing during the winter months. It was a week before she was reunited with Luke, and she had to drive four hours round trip to pick him up.
And the 47-year-old Gibsonia, Pa., woman, who's now suing the bank, wasn't even behind on her house payments, much less in foreclosure.
"This is a woman who works two jobs, owns a small diner, and gave up her health insurance so her workers can stay employed," said Iannelli's attorney, Michael Rosenzweig, a partner at Edgar Synder and Associates in Pittsburgh.
When asked about the incident, a Bank of America spokeswoman provided the same statement issued with regard to other wrongful lockouts: "We sincerely apologize to the homeowners affected for the confusion and stress these errors have caused," she said.
Ianelli's suit is still pending.
"This is another egregious example of a big corporation taking the law into their own hands," Rosenzweig said.

NEXT: They didn't even say 'Thanks'

Last updated June 18 2010: 6:19 AM ET