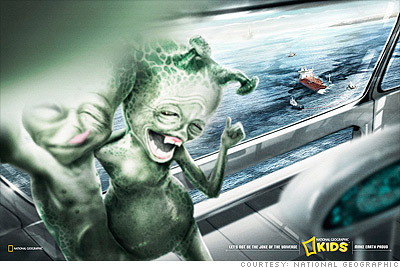 Think the oil spill is scary? Check out this ad for the South African edition of the magazine
National Geographic Kids.
It shows a pair of aliens in their spaceship, laughing and pointing at an oil-slicked ocean. The caption reads: "Let's not be the joke of the universe. Make Earth proud."
Reps from the U.S. National Geographic bureau said the ad is part of an "environmentally-focused campaign" developed in South Africa "to demonstrate the impact humans' actions have on the planet."
The idea for the ad was developed before the Gulf spill occurred and was "not intended to be a commentary on that particular situation," the U.S. reps added. Nat Geo's international partners "act independently on the ad front."

More galleries

Last updated June 22 2010: 6:47 PM ET