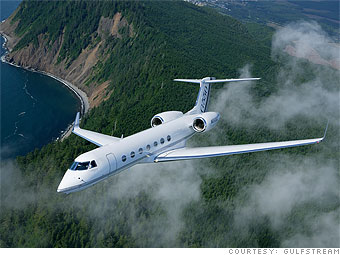 Purchase price:
$50.5 million
Yearly operating costs:
$2.5 million
The Gulfstream G550 is one of the most sought-after long-range private jets. Usually used by businesses, it's also popular among very wealthy individuals.
But it doesn't come cheap. If flown often, it will burn through nearly a million dollars a year in fuel alone, according to the aviation research firm Conklin & de Decker. Crew, maintenance, insurance and hangar costs add another million.
Many wealthy jetsetters are opting for partial jet ownership or buying prepaid flight cards priced by the hour. But even those cost-saving options are no bargain. Steven Kaye, a New Jersey-based wealth manager, said one of his clients recently booked a round trip jet to Rome for two. The cost: $180,000.
NEXT: Helicopter
Last updated August 23 2010: 10:00 AM ET