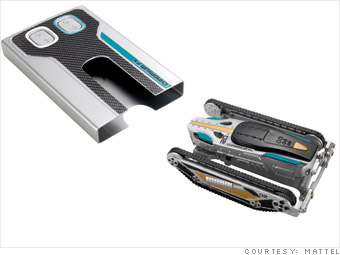 Suggested retail price: $24.99
Maker: Mattel
Age group: 6 & up
Mattel's Hot Wheels Stealth Rides, a remote-control car that unfolds from its credit card size, is also one of this year's top remote-controlled toys, said Jim Silver, editor-in-chief of TimetoPlayMag.com, which publishes the annual most-wanted toys list.
It's the size of a credit card and about as slim as a cell phone. But the coolest feature of Mattel's latest Hot Wheels ride is its 3D action: Push a button and the "flat" car pops up into a remote-control vehicle.
Mattel's coolest Hot Wheels ever
"Stealth Rides" are Mattel's first-ever folding Hot Wheels. Mattel created five different models of Stealth Ride, including two cars, two tanks and a "Batmobile Tumbler."
The remote control category used to include big toys for $70 or more," said Silver. "So this is an affordable price point for a very cool product that's never been done before."
NEXT: Paper Jamz
Last updated October 20 2010: 1:41 PM ET