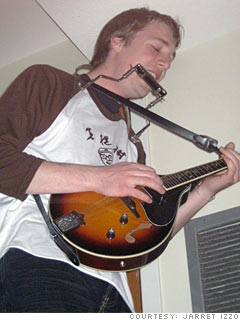 Jarret Izzo is a musician in Boston.
Portfolio allocation: 80% stocks, 20% bonds
The recession changed my thinking on investing, saving, and personal finance. I know too many people at or near retirement age that are on very shaky ground. A dollar saved at my age has a much greater earning power than one put away when I'm 40.
My investing time horizon is sufficiently long, so I can tolerate risk. I got into the market in 2008 with $1,000, and added another grand every few months. I'm up now to where I could probably buy a small car, but I'm going to keep investing. I also hold some Treasury bills and am invested in a money market fund.
The only second thought I have is, 'Why didn't I invest more?' I'm not looking to get rich quick, and day-to-day movements don't startle me. I have faith in the economy, plus retirement's a long time away for me.

More galleries

Last updated September 06 2010: 3:43 PM ET