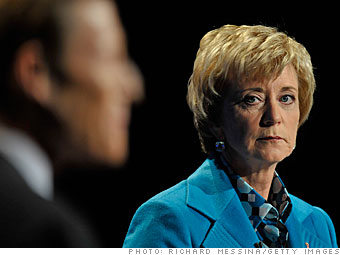 Republican Linda McMahon may not have spent the most this election season, but she spent the most per vote.
McMahon, who made her fortune managing World Wrestling Entertainment along with her husband Vince, spent a whopping $46.6 million of her own money on a failed bid for a Connecticut senate seat. That works out to $100.07 per vote.
And that number is bound to climb. Spending figures are based on the latest campaign reports, which cover only up until October 13. The figures were provided by the Campaign Finance Institute and National Institute on Money In State Politics.
Whitman's sum is the exception. Her spending report is more up to date because of different campaign finance rules in California.
NEXT: Steve Poizner: Didn't even get to the finish line
Last updated November 08 2010: 3:47 PM ET