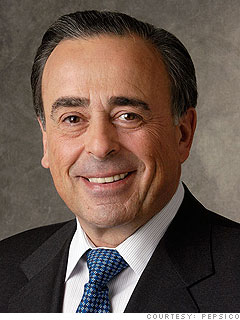 Then:
Enrico was the CEO of PepsiCo from 1996 to 2001, where he waged the Pepsi Challenge against Coca-Cola and hired Michael Jackson as a pitchman.
Now:: Enrico is chairman of DreamWorks Animation SKG, home of Shrek and Kung Fu Panda. He takes particular pride in helping to hire the right people and developing their careers. People development at the movie company, he says, "isn't as formalized as at PepsiCo, but it's very disciplined."
So it's a testament to Aaron Enrico, his 39-year-old son, that they run a small investment outfit together. Working with Dallas-based CIC Partners, the Enrico firm has stakes in emerging food and beverage companies, including yogurt chain Red Mango. Enrico, now 65, keeps an office at CIC, without the perks. "I'm my own assistant," he says.
By Patricia Sellers
NEXT: Sherry Lansing
Last updated October 28 2010: 8:20 AM ET