In the countdown to Christmas, here's a look at what items gift hunters are searching for the most.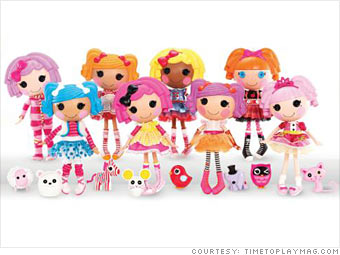 These dolls have surged in popularity this holiday season. Google says searches for "Lalaloppsy dolls" are up 20% since the beginning of December.
These adorable rag dolls from toymaker MGA Entertainment, which recently won the People's Play award from Timetoplaymag.com, come in eight different looks. Each doll has eyes made from buttons and a unique personality that's tied to the special fabric from which she was made.
For example, "Crumbs Sugar Cookie" was made from a piece of baking apron and sewn on Dec 4th, National Cookie Day. "Pillow FeatherBed" was made from pieces of a baby's blankie and sewn on Jan. 3, Festival of Sleep day.
• Gift cards could get the cold shoulder this year
NEXT: Criss Cross Crash
Last updated December 14 2010: 1:50 PM ET