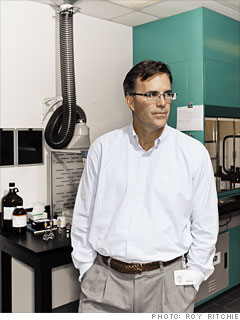 Gerard Cox, 47
Founder and COO
Velesco Pharmaceutical Services
Plymouth, Mich.

For a new entrepreneur, the solitude was painful: "When you leave a big company, the way you spend your day is pulled out from under you."
Gerry Cox was having lunch with a college buddy, someone he hadn't seen for a quarter-century, when it dawned on him: all the friendships he had neglected while climbing the upper echelons of corporate America.
He had risen to finance director of drug giant Pfizer's R&D unit in Ann Arbor but lost his job in a major downsizing. Now he was on his own.
Having rejected a Pfizer offer of a job in New York City, Cox decided to pursue a longtime dream of starting a new company. So Cox and former Pfizer scientist Dave Barnes went through entrepreneurial "boot camp" at Ann Arbor SPARK's Business Accelerator, where they refined their plan to offer early-stage drug-testing services to medium-size drugmakers.
The new firm, Velesco, hired laid-off Pfizer scientists and got $800,000 in loans from a state development fund. Velesco's timing was good, and profits are taking off.
In making over your career, Cox coaches, "You have to be mentally strong" and focus on the right business niche. "If you spread yourself thin in this environment," he says, "you struggle."
NEXT: Find an industry to train you
Last updated October 21 2010: 8:13 AM ET