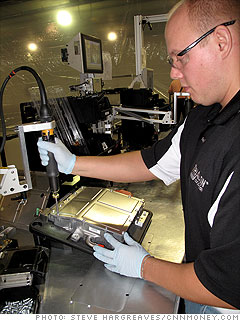 Delphi began building this new factory last January in an old plant that made metal for pins that doctors used to hold together broken bones.
Delphi plans on hiring 100 more non-union employees as production ramps up over the next five years.
While the plant is currently tooled for hybrid boards, a Delphi manager said the state-of-the-art factory could just as easily make any of the world's most sophisticated electronics products.
NEXT: Building the hybrid's brain
Last updated October 18 2010: 7:22 AM ET