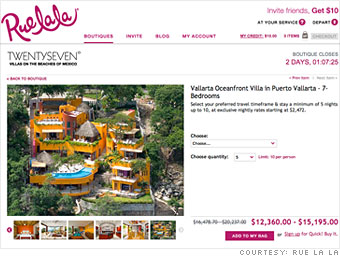 A five night stay at this seven bedroom oceanfront villa in Puerto Vallarta is on sale for $12,360.
Who does it:
2.2 million members. Enrollment is free at
ruelala.com/VIP
How it works: Rue La La features an eclectic mix of wine, travel, fashion, accessories, menswear and home sales at up to 70% off retail. "Boutiques" open every day at 11 a.m. ET and run for 48 hours.
Freelance writer Eleni Gage almost scored a wedding dress here: "It didn't end up being the dress, but it's nice to know I could have gotten an OK dress at a quarter of the price of what I paid."
Secret strategy: The "Quick! Buy it" feature lets shoppers grab an item immediately, then bundle all of the day's purchases together so they only incur one shipping fee. And you don't have to be in front of a computer: Rue La La's iPhone app gives access to shoppers on the move.
What you find: Selections from Juicy, J Brand, Tumi and Waterford, among others.
Ultimate score: Bruno Magli women's boots, which retail for approximately $600, sold for $299.
NEXT: Beyond the Rack
Last updated November 03 2010: 2:46 PM ET